This content is sent out via email every Sunday! If you're not receiving the weekly emails, please let us know.
Notes from Jess & Dave • Programming Focus • Upcoming Events • Athlete of the Month • Birthdays 
---
---
Kids Camp & More
---
 Athletes, 
For those of you with little ones you may be interested to know that we're offering weekly summer classes to you kiddos! Every Wednesday morning in June and July Coach Gina will be leading young participants through a motivating fitness-oriented hour of fun. Read more in our Events & Announcements section below.
Thank you to those participating in the May Referral Raffle and filling out the Google and Yelp reviews with what you love about SoLa! For those of you who have not yet posted a review, please do! Show your coaches and get an entry into the May Referral Raffle. Someone is going to end up winning one month of Recovery Zone for free.
Remember, at the end of the day it's all about sharing what you love and what you want more of from your SoLa membership.
Yours in the summer planning,
Dave & Jess
---
Programming Focus 🏋️‍♀️
---
As we transition into May we start off with our new strength cycle: the Wendler 5-3-1! We will be working up to a heavy 1-Rep Deadlift, Back Squat, and Bench Press.

SoLa May/June Strength Cycle
Week 1 (5/2-5/8): Heavy 1-Rep Tests (Use 90% as Training Max)
Week 2 (5/9-5/15): 1×5 @65% – 75% – 85%
Week 3 (5/16-5/22): 1×3 @70% – 80% – 90%
Week 4 (5/23-5/29): 1×5 @75% – 1×3 @85% – 1×1+ @95%
Week 5 (5/30-6/5): 1×5 @65% – 75% – 85% (Increase Training Max)
Week 6 (6/6-6/12): 1×3 @70% – 80% – 90% (Add 5-10lbs)
Week 7 (6/13-6/19): 1×5 @75% – 1×3 @85% – 1×1+ @95%
Week 8 (6/20-6/26): 1×5 @40% – 1×5 @50% – 1×5 @60%
Week 9 (6/27-7/3): Heavy 1-Rep Retests
SoLa Weekly May Commitments
✅ Test 1-Rep Heavy Back Squat/ Deadlift/ Bench Press
✅ (2) Ab Finishers Weekly
✅ (2) Days of "Extra Credit" Murph Prep
✅ (1) New or Classic Named Workout
✅(1) Optional Partner Workout Weekly
SoLa May Benchmarks
✅ 1-Rep Heavy Back Squat/ Deadlift / Bench Press
✅ California Love & California Dreamin
✅ Punch Out
---
Events & Announcements 🎉
---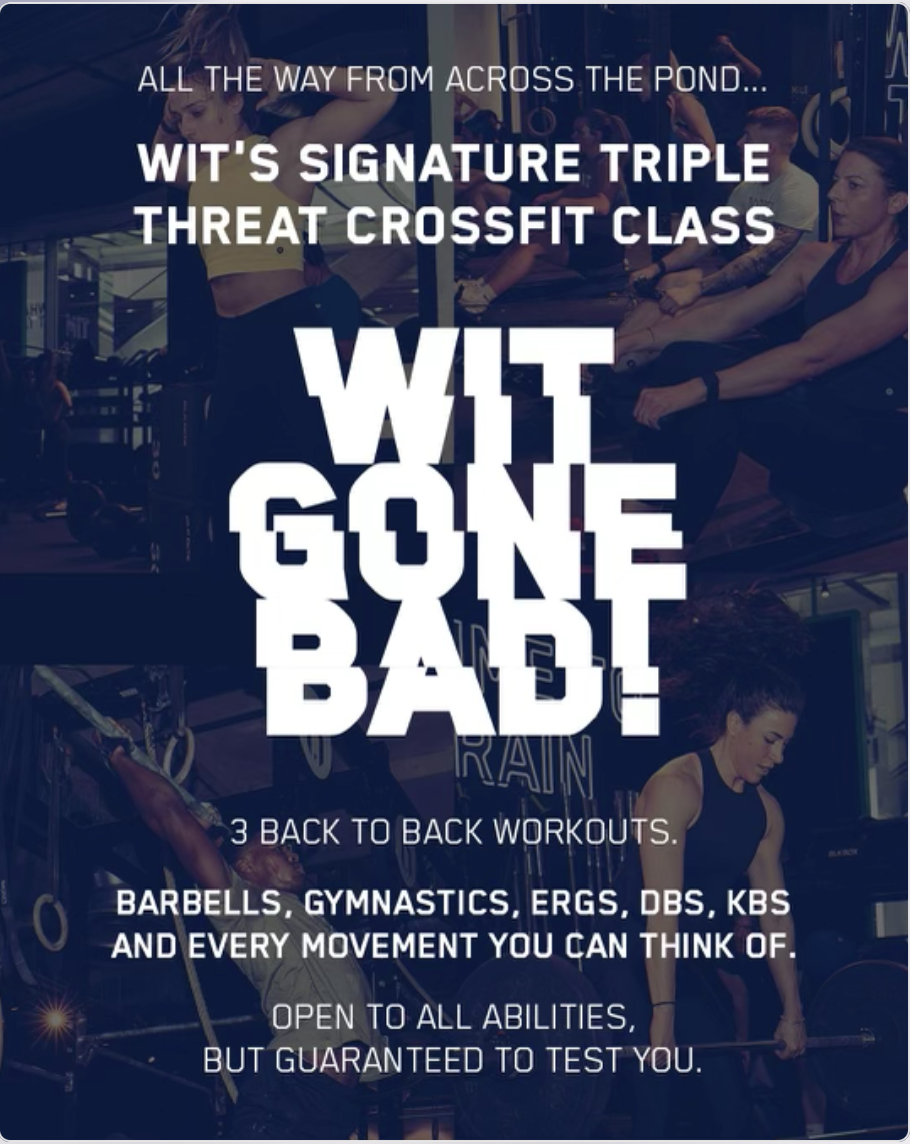 🎟️ May "Review Raffle": This is your opportunity to win a free month of Recovery Zone + a little bag full of SoLa swag to go with it. How does it work? Members write a review for SoLa CrossFit on Google or Yelp, take a screenshot of your review, show any of your CrossFit coaches. Coaches will give you raffle tickets and the winner will be pulled on May 31 after our Murph workout.
Earn 2 raffle tickets: 1 for a Google review and 1 for Yelp
Earn 10 tickets for every IG post about SoLa CrossFit and why you love it! Note: We're only counting posts and not a IG Stories.
🗳️ Open Gym on Sundays: We will be offering Open Gym hours from 9AM – 1PM every Sunday. Enjoy!
💦 Saturday, 5/14, Recovery Sweat & Chill: Join Mike Gregory for a guided recovery class every Saturday at 12 PM. After starting with a guided breathing exercise, you will rotate through the sauna and cold plunge. Contrast therapy alternates temperatures between hot and cold (sauna/cold plunge) to treat various conditions while helping maintain performance. Try it for yourself!
🇺🇸 Monday, 5/31, 10:00 AM, Murph Hero Workout: Save an hour or so on Memorial Day to come work out with us!
❣️ June 1 – June 30, Women Only: Summer Shred Series! Join Coach Gina for another women's only series at SoLa. During this 5-week bootcamp, our 15 ladies who sign up will receive two women's only HIIT classes per week (Wednesday & Friday 7:30am – 8:30am), personalized macro prescription & nutrition guidance, weekly accountability check-ins, before & after InBody scans, and personalized goal setting — everything you need to succeed. Get more information and sign up on this website.
🚸 June & July Summer Kids Program: The Summer Kids Program approaches fitness through the lens of FUN, and ultimately hopes to foster a lifelong love of fitness. The skills addressed include most of CrossFit's foundational and auxiliary movements, and the time frame accommodates the developing abilities of kids age 7-12 years old. The workouts focus on the development of proper movement mechanics, fun and play. Sign up here.
Session 1: 6/8 – 6/29 (Wednesdays @ 9:00 AM)
Session 2: 7/7 – 7/28 (Wednesdays at 9:00 AM)
🇬🇧 June 14, 5:30 PM, WIT Class: It's official! All the way from across the pond, WIT are hitting the road and are bringing the full WIT experience to Austin. Join us on Tuesday, June 14, for exclusive WIT Gone Bad class takeover, prizes, and limited time offers on all your favorite training gear. You don't want to miss this!
---
May Birthdays 🎂
---
Jacob Schramm (5/2)
Hansen Anderson (5/3)
Ian Dai (5/3)
Pete Malvasi (5/7)
Max Atherton (5/7)
Carley Boyle (5/8)
Roger Trinh (5/9)
Silvia Oxom (5/12)
Meg MacDougal (5/15)
Dylan Cowley (5/19)
Jamie Rose (5/19)
Eric Mentele (5/19)
Hani Talebi (5/20)
Matt Parson (5/21)
Riley Boyle (5/22)
Amanda Gannon (5/22)
Jackson Bonnett (5/24)
Shelley Flanary (5/25)
Bryce Swihart (5/26)